ART PAPERS x

Temporary Studios
PRESENTS
Oneness That Is, Too
Exhibition Reception
Saturday, October 1
6:00 PM – 8:00PM
Open Studios
Saturday, October 1
12 PM - 6 PM

Temporary Studios
1910 Murphy Ave SW
Atlanta, GA 30310

Atlanta Art Week Hours
Thursday CLOSED
Friday CLOSED
Saturday 12 PM - 6 PM
Sunday CLOSED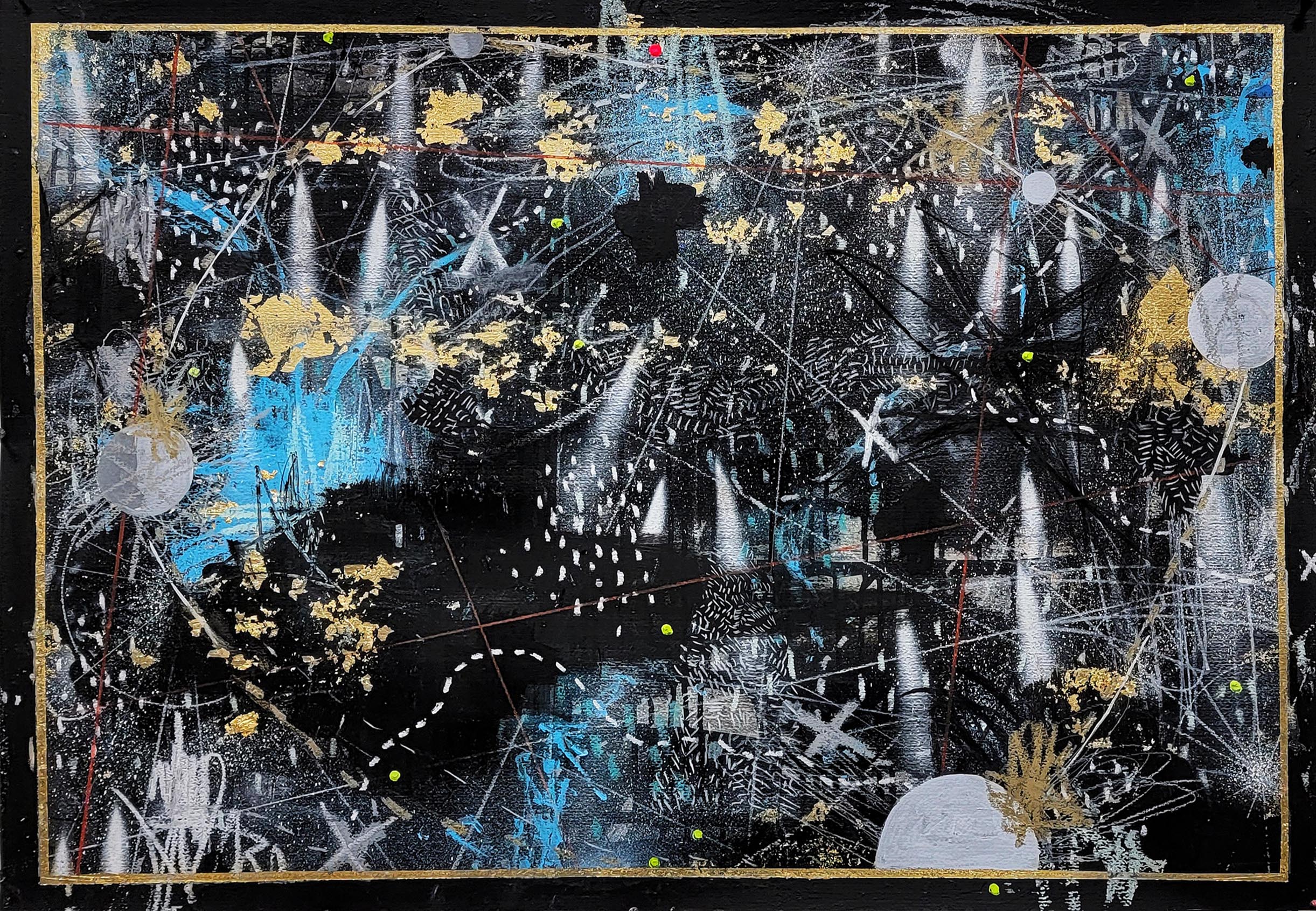 Michi Meko,
The Main Map
, 2022, acrylic, aerosol, oil pastel, gold leaf, hologram glitter on paper, courtesy of the artist and Kavi Gupta Gallery, Chicago
Oneness That Is, Too
explores ideas of the allegorical beyond: nature, wilderness, cosmos as metaphor for an internal or spiritual journey. Featuring artists
Michi Meko
,
Elizabeth Porcel
,
Hasani Sahlehe
,
Sergio Suarez
, and
Mark Wentzel
, alongside animal participants courtesy of the
Fruit Feeder at Canopy Lodge
, and microbial participants courtesy of
Julia Skinner
and Root Kitchens, the exhibition includes works that address and dissolve binary divisions between interior/exterior, human/animal, culture/nature. Together, these works and cross-species collaborations propose the disintegration of such barriers by acknowledging that the mythological other is a potent reflection that mirrors the self—we look outward to the unknowable in order to locate, and perhaps understand, our internal wilds. Curated by Sarah Higgins.
Sarah Higgins
is Editor + Artistic Director of Art Papers. Previously, she was curator at the Zuckerman Museum of Art at Kennesaw State University from 2015-2018. There, she produced catalogs and exhibitions including Gut Feelings, Tomashi Jackson: Interstate Love Song, and A View Beyond the Trees. She has curated over 40 exhibitions featuring a diverse range of emerging, established, and international artists for institutions such as the Hessel Museum of Art, Southeastern Center for Contemporary Art, Museum of Contemporary Art of Georgia, an Atlantic Center for the Arts. Higgins holds a BFA in Printmaking & Sculpture from the Atlanta College of Art and an M.A. in Curatorial Studies from the Center for Curatorial Studies, Bard College. Curator, exhibition during Atlanta Art Week
The run dates for the exhibition are September 29-October 22, 2022.
Please visit
www.artpapers.org/events
for more information about programming and updates!
This event is free and accessible by car, ride-share, or MARTA via the Lakewood Station. Limited free parking is available on site.
Masks are recommended indoors, but not required. KN95 masks and hand sanitizer will be available for those who wish to partake.
About
During the pandemic
ART PRODUCTS, LLC
and The Temporary Art Center recognized a clear need in our community for artists' studio spaces. The Temporary Studios settled into a beautiful 13,500 sq. ft building at the southern edge of the Sylvan Hills neighborhood in Atlanta, across the train tracks from the new Tyler Perry Studios. We went to work designing and building 11 artist studios and an exhibition space.
Current studio artists include: Michael Allman, Fredrik Brauer, Antonio Darden, William Downs, Jill Frank, Scott Ingram, Michi Meko, Michael Reese, Brandon Sadler, Hasani Sahele, and Ellex Swavoni. Studio appointments can be made with the individual artists.
Atlanta-based and globally-engaged, Art Papers serves the creative community and the culturally curious by expanding the dialogue around contemporary art and culture, exploring the ways they affect and reflect human experience. We do this in print, online, and through public programming.
We support the careers of working artists and writers and are committed to creating space for and amplifying diverse voices especially those that have historically been marginalized by the
art world. We are empowering these contributors and artists to share a perspective on the art world that does not center Whiteness, heteronormativity, and ableist narratives In addition, we represent the American South globally and offer an underrepresented perspective on the global art world, one that does not center the market and the usual suspects, but rather provides a community for artists outside of traditional cultural centers.
About the Artists
Scott Ingram
Founder of Temporary Studios
Scott Ingram has a diverse practice that includes painting, drawing, sculpture, collage as well
as producing furniture and design products. All are connected by Ingram's process of
abstracting the real, reducing his subjects to their most essential elements, which he reflects in
a combination of color and line.
Modernist architecture is one of his favorite subjects as he deconstructs its forms to the most
essential elements. Cast concrete, cinder blocks, steel I-beams, glass: materials that were so
essential to the period become the subject matter as well as the material vocabulary of his
practice. Modernist designers also come under his scrutiny as he studies their sinuous,
aerodynamic lines.
While his admiration for his Modernist predecessors is evident, Ingram's work is often infused
with irreverent humor, particularly in his use of materials. In his hands, a solid concrete block
can turn into foam, a line drawing can be made out of nail polish, and the facade of a house can
be covered in automobile paint. In this transformation, Ingram solidly roots his work in the
present.
Ingram was born in Drumright, Oklahoma and grew up in Des Moines, Iowa. Since 1995, he has
exhibited throughout the United States as well as Spain and Canada. In 2011 he was a resident
at the MacDowell Colony and in 2013, he was awarded a Working Artists Fellowship from the
Museum of Contemporary Art of Georgia. His work is collected by numerous private and
corporate collections, as well as the High Museum of Art. Scott lives and works in Atlanta,
Georgia.
https://
www.scottingramart.com/
Fredrik Brauer

Fredrik Brauer is a Swedish photographer based in Atlanta,GA. He documents the
ever-shifting architectural landscape of Atlanta with a keen eye for the interplay of light, color,
and form. His photographic practice documents the built environment as palimpsest, capturing
sites of change in the in-between moments, and in doing so, he freezes those moments of
incompleteness and grants them permanence in the image.
http://
www.fredrikbrauer.com/
Antonio Darden
Antonio Darden was born in a small town near Raleigh, North Carolina. At the age of seven, he
relocated with his family to a suburb outside Atlanta, Georgia. Darden went on to graduate with
his BFA from Georgia State University in Three-dimensional Design with a concentration in
sculpture in 2006. He and fellow artist Matt Sigmon created the performance and installation
artist collaborative, The Art Officials, in 2009. Darden is the founder and creative director for
Radha David, a design/build firm launched in 2011. He has curated a number of exhibitions and
has been included in shows in the United States, the United Kingdom, and Mexico. His work is
currently in the City of Atlanta, Office of Cultural Affairs collection as well as the Atlanta
University Center, Robert W. Woodruff Library's collection. Antonio Darden currently lives and
works in Atlanta, Georgia.
https://
www.antoniodarden.com/
William Downs
Born and raised in Greenville, South Carolina, William Downs works in a range of mediums, but
focuses primarily on drawing. He received a Multidisciplinary M.F.A .from the Mount Royal
School of Art at the Maryland Institute College of Art, Baltimore and a B.F.A. in Painting and
Printmaking from the Atlanta College of Art and Design. Downs taught Foundation Drawing at
the Maryland Institute College of Art from 2002 through 2010. He taught Advanced Drawing at
Parsons The New School for Design, Foundation Drawing at The Cooper Union and Tulane
University.
His work has been presented at numerous venues in the United States and abroad. Downs was
represented by Moti Haasn Gallery 2007—2009, Slag Gallery 2009—2010, both New York
Galleries and Parker Jones Gallery in LA 2009—2010. His work was part of "Monster Drawing"
at the High Museum of Art, and "On Paper" at Field Work Gallery in Pittsburgh, PA. He was
recently included in a group exhibition "Art AIDS America" at The Zuckerman Museum of Art in
Kennesaw. Downs is currently a Drawing and Painting Lecturer at Georgia State University.
https://williamedowns.com/
Jill Frank

Jill Frank is an Atlanta-based artist and educator. She is currently an Assistant Professor of
Photography at Georgia State University. Reviews of her work have appeared in Art Forum, Art
in America and The Paris Review. She has had solo shows at the Museum of Contemporary Art
Chicago and Museum of Contemporary Art Georgia. She studied art and photography at The
School of the Art Institute of Chicago and Bard College.
Jill works primarily in photography and video to explore the struggle to present one's identity
within unstable environmental, political and social contexts. Diverging from traditional
documentary forms, Jill uses sound, scale, repetition and staging to record conquests and
games, where representation plays a decisive and transformative role.
http://
www.jillleafrank.com/
Michi Meko
Michi Meko is a multidisciplinary artist whose works engage metaphorically and abstractly with
the paradoxes and contradictions that have shaped his personal history and the shared history
of Black Americans, particularly in the American South.
Meko nearly drowned in 2015—an experience that continues to resonate within his studio
practice today. He says, "Inviting this life-changing event's influence into my studio practice, my
recent paintings and sculptures focus on the African American experience of navigating public
spaces while remaining buoyant within them."
The work creates a transformative and transcendent space in which viewers experience the
weight and pressure of feeling threatened, while simultaneously encountering a romanticized
psychological and physical space that feels creative and full of possibility.
Recent exhibitions of Meko's work include The Dirty South, Virginia Museum of Fine Art,
Richmond, VA; Realms of Refuge, Kavi Gupta, Chicago, IL; Michi Meko: Black and Blur, Clark
Atlanta University Art Museum, Atlanta GA; Michi Meko: It Doesn't Prepare You for Arrival,
Museum of Contemporary Art of Georgia (MOCA GA), Atlanta, GA; Michi Meko: Before We
Blast off: The Journey of Divine Forces, Atlanta Contemporary Art Center, Atlanta, GA and
Abstraction Today, MOCA GA, Atlanta, GA. His work is held in the collections of the High
Museum of Art, Atlanta, GA; King & Spalding, Atlanta, GA; Scion (Toyota Motor Corporation),
Los Angeles, CA; MetroPark USA Inc., Atlanta, GA; and CW Network, Atlanta, GA, among
others. Meko is the recipient of the Joan Mitchell Foundation Grant and the Atlanta Artadia
Award, and was a finalist for the 2019 Hudgens Prize.
http://michimeko.com/
Michael Reese
Michael Reese is an artist, photographer and educator. His work explores themes of identity
and history; using past and current photographic processes as a base. With a fascination in
cosmology and celestial science, he has created conceptual bridges between astronomy and
the fight against human bondage. He sees photography as the perfect vehicle to stay curious
about the world around him. Reese was recently selected by The Montresso Art Foundation for
an art residency at Jardin Rouge in Marrakech, Morocco. The work created in the residency will
be exhibited as part of 1-54. The 1-54 is the first leading international art fair dedicated to
contemporary art from Africa and its diaspora. Reese continues to exhibit regularly through the
traditional gallery system and the broader reaching visibility of public art.
https://
www.michaelreesestudios.com/
Brandon Sadler
Brandon Sadler (b.1986) aka Rising Red Lotus, a name which also serves as a mantra telling
the story of the lotus whose roots were sown deep in the mud of good and evil, who gathered
nutrients from both sides, and rose to the surface to become whole. He is a native ATLien,
earned a BFA in Painting and Illustration from SCAD Atlanta, and is a multi-disciplinary artist,
calligrapher, film director, and writer.
Sadler is renowned for his public mural works and his solo and group exhibitions have brought
him accolades as one of Atlanta's most prolific artists collected by individuals as well as the
High Museum of Art. His mural work on the set of MARVEL Studio's Black Panther has brought
great attention to his work in recent years. In addition to activating the fine art and public art
worlds, he has also worked with several major brands to successfully bring his unique vision
into the commercial space.
https://
www.risingredlotus.com/
Hasani Sahlehe
Hasani Sahlehe is originally from St. Thomas, US Virgin Islands. The artist received a BFA in
painting from the Savannah College of Art and Design in Savannah, Georgia in 2015.
Exhibitions of Sahlehe's work have taken place at: the SCAD Museum of Art in Savannah,
Georgia; the Atlanta Contemporary Art Center in Atlanta, Georgia; and NADA Miami in Florida.
Sahlehe's work has been published in Art Papers, New American Paintings (with Noteworthy
Artist distinction), and Burnaway. The artist was awarded the SCAD Alumni Atelier, MINT Leap
Year residency, and the Hambidge Residency for the Arts and Sciences.
https://
www.hasanisahlehe.com/
Ellex Swavoni
Ellex Swavoni is a multi-disciplinary, contemporary artist hailing from Louisville, Ky. As a child,
she became enchanted by art toy design and the onslaught of information the internet brought.
Throughout her formative years, she taught herself the art of sculpting, mold making, and other
home manufacturing techniques.
She uses her love for toy design, sculpting, ancient spirituality, and graphic design, to create
sobering works that speak on her view of the world around her. She captures and translates her
experiences into future ancient symbols, music, and minimal abstract works.
Her philosophy: It is the responsibility of artists to translate the human experience into things
that the senses can accept even if the mind can't comprehend. This viewpoint informs her
spiritual imagery and Future Ancient style. The Future Ancient style utilizes the visual language
from religions across the diaspora to project modern ideologies into the realm of divinity.
She is currently based in Atlanta, where she is developing a series that proposes the
importance of empowering ourselves by creating the conditions of love, using fantasy, design,
and music. She will continue to cross-reference the modern ideas and techniques with ancient
symbology in her new works, as well as advancing her Fine Art and Industrial Design education.
https://
www.ellexswavoni.com/
Mark Wentzel
Mark Wentzel is a multi-disciplinary visual artist living in Atlanta, Georgia and a native of Detroit, Michigan. His work represents a diverse set of topics from Modern iconography, human ideology, consciousness, perception, and individual motivation. In 2009, Mark presented a solo exhibition at the Atlanta Contemporary Art Center entitled Morale Hazard, a comment on the crisis in the US auto industry, in which he suspended a 1965 Ford Mustang from the ceiling. He received international attention for his work XLounge, an artistic modification of a set of Eames Lounge chairs that were included in the 2008 SCOPE NY exhibition, and won an award at the 2010 Artprize in Grand Rapids, Michigan. His XLounge works were shown at the CDC's David J. Sencer Museum in an exhibition entitled Consequential Matters considering obesity and contemporary aesthetics. In 2018 Mark's work
BIOID: A Bio-Marker Patent Generator
was included in the Venice Architectural Biennale and traveled to V&A Museum for London Design Week and later the Het Nieuwe Instituut in Rotterdam. In the Spring of 2019 Mark collaborated with Atlanta's Freedom Park Conservancy on the DWELLING project in Inman Park inspired by his 2015 Flow Fields proposal for the Goat Farm Art Center. Mark has received several grants from the CDC and other public health institutions applying creativity to public health issues. He maintains ongoing collaborations with scientists and researchers to inform his sculptures, drawings, large-scale installations, and public art projects addressing human perception and behavior.
https://www.markwentzel.com/