SWAN COACH HOUSE GALLERY

PRESENTS
RE:FOCUS

Melissa Alexander
Stephanie Brown
Terra Coles
Natrice Miller
Curated by Dr. Fahamu Pecou
Exhibition Reception
Thursday, September 29
6:00 PM - 8:00 PM

Swan Coach House Gallery
3130 Slaton Drive NW
Atlanta, GA 30305
Atlanta Art Week Hours
Thursday 11 AM - 8 PM
Friday 11 AM - 8 PM
Saturday 11 AM - 8 PM
Sunday CLOSED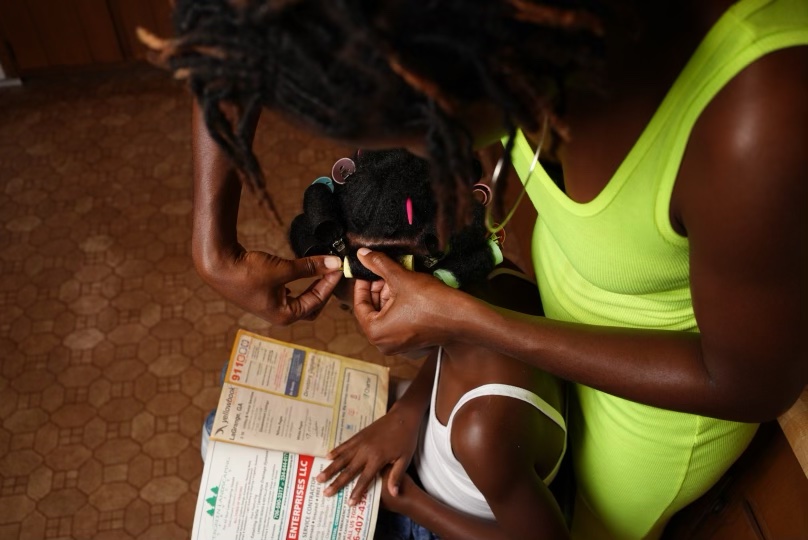 Melissa Alexander
In RE:FOCUS, four emerging Black women photographers present new perspectives on Black art, life, and culture.

Swan Coach House Gallery is pleased to present RE:FOCUS, a photography exhibition curated by Dr. Fahamu Pecou featuring works by Melissa Alexander, Stephanie Brown, Terra Coles, Natrice Miller.

Acclaimed photographer Dawoud Bey is adamant about not using terms like "shoot", "capture", "take" etc when creating his images. Instead he prefers to think of his practice as making photos or images, insisting that the conventional language of photography connotes violence and harm.

As more artists of color begin to take agency over the ways they are imaged, new ways of seeing and being are emerging. Each of the artists in this exhibit, enter the discipline of photography from different vantage points and give us glimpses into intimate spaces. Spaces we can only gain access to when the photographer and subject create together. They don't "take photos", they make moments. And in refocusing their approach, make visible worlds we never knew existed.

Please note: Visitors can park in the parking lot of the Swan Coach House or along Slaton Drive NW.

About the Gallery
Inside the gallery
The Swan Coach House Gallery
is a program of the Forward Arts Foundation.
The Forward Arts Foundation was founded on September 21, 1965 as a non-profit organization by twelve visionary and community-minded Atlanta women. These dedicated art patrons selected as their home the carriage house of the Edward Inman estate, the Swan House, located on the grounds of the Atlanta History Center. The home was the masterpiece of Atlanta's internationally renowned architect Phillip Trammell Shutze.
The Foundation renovated the carriage house creating a Restaurant and Gift Shop in 1967 with the Art Gallery opening in 1984. Through the management of these three Swan Coach House entities, along with revenues from an annual fall Flea Market, a holiday Fashion Show, and the Swan's Palette Cookbook, the Foundation fosters and supports the visual arts in Atlanta.
The High Museum of Art, The Atlanta History Center, Michael C. Carlos Museum, MOCA GA, and the Atlanta Contemporary Art Center are among the beneficiaries of the Forward Arts Foundation Community Grants Program. In 1999, the Forward Arts Foundation established an Emerging Artist Award, now called the Edge Award, that recognizes an artist in the greater Atlanta community annually with a cash prize, a two-week residency at the Hambidge Center, and a solo exhibition at the Swan Coach House Gallery.
About the Artists
Melissa Alexander
is obsessed with vulnerability. To be clear, vulnerability and growth form the foundation of her work. In particular, she focuses on the inter-relational intimacy that exists within the Black American community, encouraging the model and viewer to lay down their guard. Her work is her protest, her rebellion, her chance to strengthen the Black narrative that has been washed, overlooked, and undervalued.
She resides in Atlanta's West End neighborhood with her daughter. She's a big fan of A Tribe Called Quest, Conan the Barbarian, and Zora Neale Hurston. Currently, she is working on projects related to the evolution of the Black girl into the Black woman.
---
Stephanie Brown
is a Jamaican descendant born and raised in Delray Beach, Florida. She holds a BFA in Photography from Savannah College of Art and Design, as well as an MFA degree in Interdisciplinary Art and Museum Studies Certificate from the University of Michigan.
Stephanie grew up at the intersection of her Jamaican and Black American identities. Broadly her work is a reflection of her internal self/ancestral exploration. The work is a historical yet critical investigation of identity construction and the occurrence of implicit and explicit bias in the world around us. Stephanie visually navigates the concepts in her work with photography, object making, creative writing, and interactive installation to create thought provoking imagery and dialogue that ultimately challenge narratives in the world that informs who we choose to be as individuals.
In between her studies, Stephanie has sailed the Mediterranean as a portrait photographer on a cruise ship and has served as a youth art educator for several years. She has exhibited internationally in France, the United Kingdom, and Mexico. Nationally her work has been exhibited in Florida, Georgia, Michigan, and North Carolina. In 2019, Stephanie had a debut solo exhibition titled "Do Not Bleach" at the Appleton Museum of Art in Ocala, FL and presented her photography at Prizm Art Fair during Miami's Art Basel. Stephanie is actively based in Atlanta, Georgia.
---
Initially, it was the naked walls of her new condo that inspired a passion in
Ms. Terra "TT" Coles.
What was once a hobby with a simple point and shoot camera became a lifestyle that Coles now lives and breathes. Even in the absence of formal training, Coles' easily navigates her way through film and digital photography. A self-taught photographer and videographer, Coles' picks up pointers by studying the images and techniques of accomplished photographers such as Cindy Sherman, Henri Cartier-Bresson and Thierry Le Goues . She enthusiastically learns more about her craft on every set and impromptu shoot.
Born in Republic, PA and raised in Stone Mountain, Ga, TT Coles was blessed with a creative spirit by nature. Surrounded by her mother's endless craft projects, and influenced by her Uncle Jeffrey B. Jones, a creatively gifted seasoned photographer, Coles' creativity manifested itself in her life in many forms before she honed in and nurtured her skills as a photographer. Coles captures the beauty in the most unexpected moments—the way car lights dance through the curves of a busy freeway, a subtle joke shared between lovers and most recently she has turned the camera on herself in a journey of self exploration. Each photograph TT Coles frames screams with passion and like all great photographers, capture moments of life that echo with a timeless appeal.
In 2010 Coles was prominently featured in Palava, an exhibition highlighting the work of emerging female photographers. Additionally her work was featured on the cover of the critically acclaimed, alternative newsweekly Creative Loafing. In 2011 she was selected for The Museum of Contemporary Art, GA (MoCAGA)'s Movers and Shakers of The Georgia Art Scene exhibition and selected for HOME an exhibition of emerging artists during the National Black Arts Festival.
---
Natrice Miller
is an Atlanta-based photographer/filmmaker whose personal work focuses on documenting the Black experience in America. Clients and publications include The Atlanta Journal-Constitution and The United Negro College Fund. She graduated from Florida A&M University with a B.S. in Journalism and Graphic Communication in 2005. In addition to exhibiting photography in Atlanta and The U.S., she has also shown her short films at film festivals locally and abroad. Currently, her personal work focuses on the inner lives of Black women, exploring themes related to beauty, emotion and overlooked traditions and rituals.
Inspired by memories and her deep love of Black culture, she uses a mixture of photography and film to tell stories that gives the viewer a glimpse into the humanity and shared experiences of Black Americans.
Photos Courtesy of Swan Coach House Gallery