Taher Jaoui | 4 Another | 120 x105 cm
The depth of Jaoui's relationship between art and spirituality is defined in his latest collection, Urban Sense.

Urban Sense establishes a creative connection to something larger than the self with energetic and vibrant compositions. In his artwork, Jaoui reflects on his thoughts in this collection through the abstracted inspiration of traditional African cultures and the Contemporary art movement. Jaoui's oeuvre demonstrates his energy and passion through his graffiti style and abstract expressionism.
Urban Sense explores Jaoui's beliefs and culture, while working to define the reality of the current moment, an uncertain world full of chaos and anxiety, where spirituality can be a solution.
Please email contact Grace Chambless to acquire a pricelist or set up a private viewing
grace@maune.com
.
About the Gallery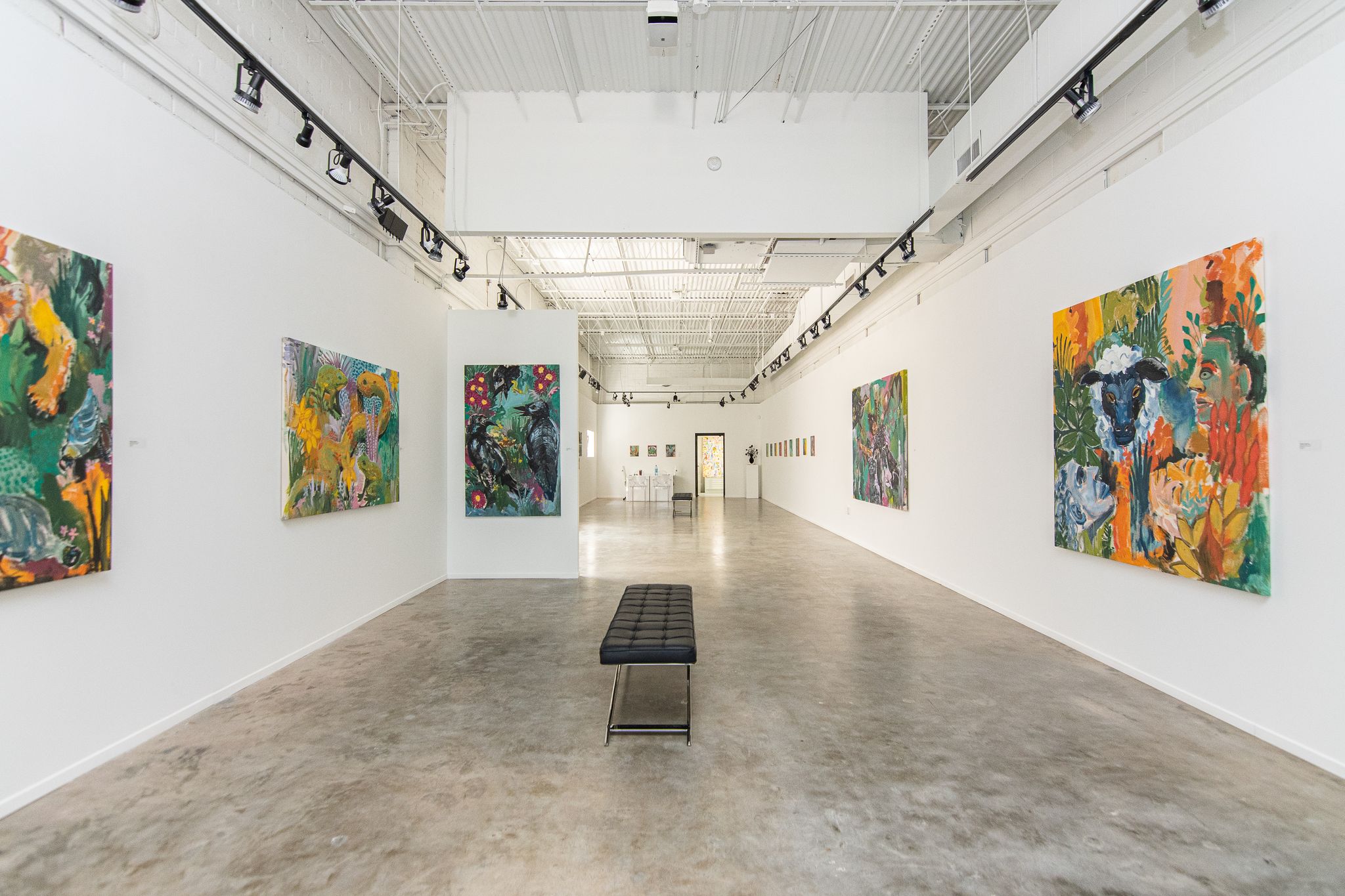 Inside the gallery
Maune Contemporary
was founded by Heidi and Ramsey Maune out of their love for contemporary and modern art. They have been long-time art collectors and enjoy attending art fairs, visiting galleries and supporting the local art community.
The gallery specializes in limited edition fine art prints and unique works by renowned international artists whose work has been exhibited and are in the collections of museums worldwide. The gallery accepts works on consignment as well as acquires art on the secondary market.
In addition, Maune offers art advisory and curatorial services, assisting businesses and individuals with building their art collection through their relationships in the art world.
Maune Contemporary has locations in Atlanta, Georgia and Santa Barbara, California. The Atlanta gallery is located in the Miami Circle Design District in Buckhead. Miami Circle has long been one of the major art centers of Atlanta with over ten art galleries, featuring emerging to established artists. The Santa Barbara gallery is located along historic State Street, one of America's most pedestrian-friendly downtowns. The gallery is within the Santa Barbara Art District, home to Santa Barbara Museum of Art, the Arlington Theatre, The Granada Theatre and to numerous art galleries.
About the Artist

Creating captivating and labor-intensive work with an idea of continuing the legacy of abstract expressionism movement from the 50s and 60s, Taher Jaoui's paintings are rich assemblages of layered forms, vibrant colors, expressive gestures, and mathematics signs and formulas. Applied on canvas through a dynamic interaction, a physical back and forth dialogue in which perspective and orientation continuously change until all the elements are balanced right, these opulent creations are the artist's personal way of expressing himself.

Through a series of spontaneous movements, directly inspired by the way canvas responds to layers of paint and gestures applied to it, Jaoui compares his work to a dance routine with a familiar partner. And while impulsive and unconstrained in its core, the familiarity with materials is essential for the creative process that strongly depends on the ability to respond quickly and foresee the way the elements will work together. Layering pastels, oils, and acrylics, the artist accents the richness of his work by constructing a raw texture that directly captures the physical energy put into each piece. Serving as a channel to convey his thoughts, emotions, and visions, the artistic practice is Jaoui's source of confidence and peace, while the finished work becomes a documentation of the process of achieving those feelings.

Without any formal art education, his artistic practice is influenced by African primitive art, graffiti, glitch art, COBRA movement as well as the philosophy and attitude of post-war abstract expressionism. Varying from simple forms and patterns over-familiar shapes that reminiscent of abstracted skulls, all the way to chalkboard like scribble sections, the canvas surface becomes the workspace through which the artist exercises his ways of expression.

The concept of building something from a variety of singular elements is a direct result of computer science and engineering studies, parts of which are coming to life through abstract mathematics signs and formulas sometimes incorporated into Jaoui's entrancing compositions. This element, along with the spatial vision of the surface, once again makes a strong connection with early abstract expressionism concepts which considered ideas of quantum mechanics in their conceptualization. Regularly working on a large scale, the works which are exclusively built in an automatic or subconscious manner, are actually demanding careful planning and utilization of space and materials. While balancing between his thoughts and feelings while creating, Jaoui's work carries that sense of rebellious, anarchic, highly idiosyncratic and, some might say nihilistic feel to it, yet still constructing an endless base for viewer dependent interpretation and experience.