DAY & NIGHT PROJECTS
PRESENTS
ANTONIO DARDEN : 10:13

Sunday, October 2
Artist Talk followed by a Tour of Day & Night Projects
12:00 PM - 1:00 PM
Open Studios
1:00 PM - 5:00 PM

Day & Night Projects
585 Wells St. SW,
Atlanta,GA 30312


Atlanta Art Week Hours
Thursday 11 AM - 8 PM
Friday 11 AM - 8 PM
Saturday 11 AM - 8 PM
Sunday 12 PM - 5 PM
"S.K.D. (Steal/Kill/Destroy)" 2021 - Antonio Darden10"x70"x18" MDF, metal, ski mask, paint acrylic sheet, glitter
Day & Night Projects is proud to present 10-13, Atlanta artist Antonio Darden's new exhibition of sculptural and installation works.


Atlanta-based artist Antonio Darden's solo show at Day & Night Projects is a multi-faceted, immersive experience that is centered around pain, despair, and healing. Wielding sculpture, installation, and painting, Darden explores his brother's death at the hands of a Georgia State Patrol Officer; his family's reactions of rage and recovery; and the failure of our social and political structures to deliver safety and justice.

From Darden's artist statement:

They killed my brother.

In February of 2018 I received a call from the Georgia Bureau of Investigation notifying me that my brother had been shot and killed by a Georgia State Patrol Officer. The shooting, labeled a homicide, happened in southwest Atlanta. I had the task of dispensing the news. The first call was to my father. His reaction has been unforgettable with feelings of disbelief, unbridled grief and rage.

10-13 is a multi-faceted immersive experience established in the imagination of the artist. This body of work examines the identity of grief once cloaked in despair. The exhibit pushes this familiar narrative to its most irreverently volatile outcome. A conclusion that the artist's father, while alive, had once contemplated. The living deserve a resolve.

Antonio Darden will give an artist talk about his exhibition 10:13, followed by a tour of Day & Night Projects' adjoining art studios. Join us on Sunday, Oct. 2 at 12 PM for the Artist Talk, with Open Studios until 5PM.

Please park on the street or in the loading bay.

About the Artist Project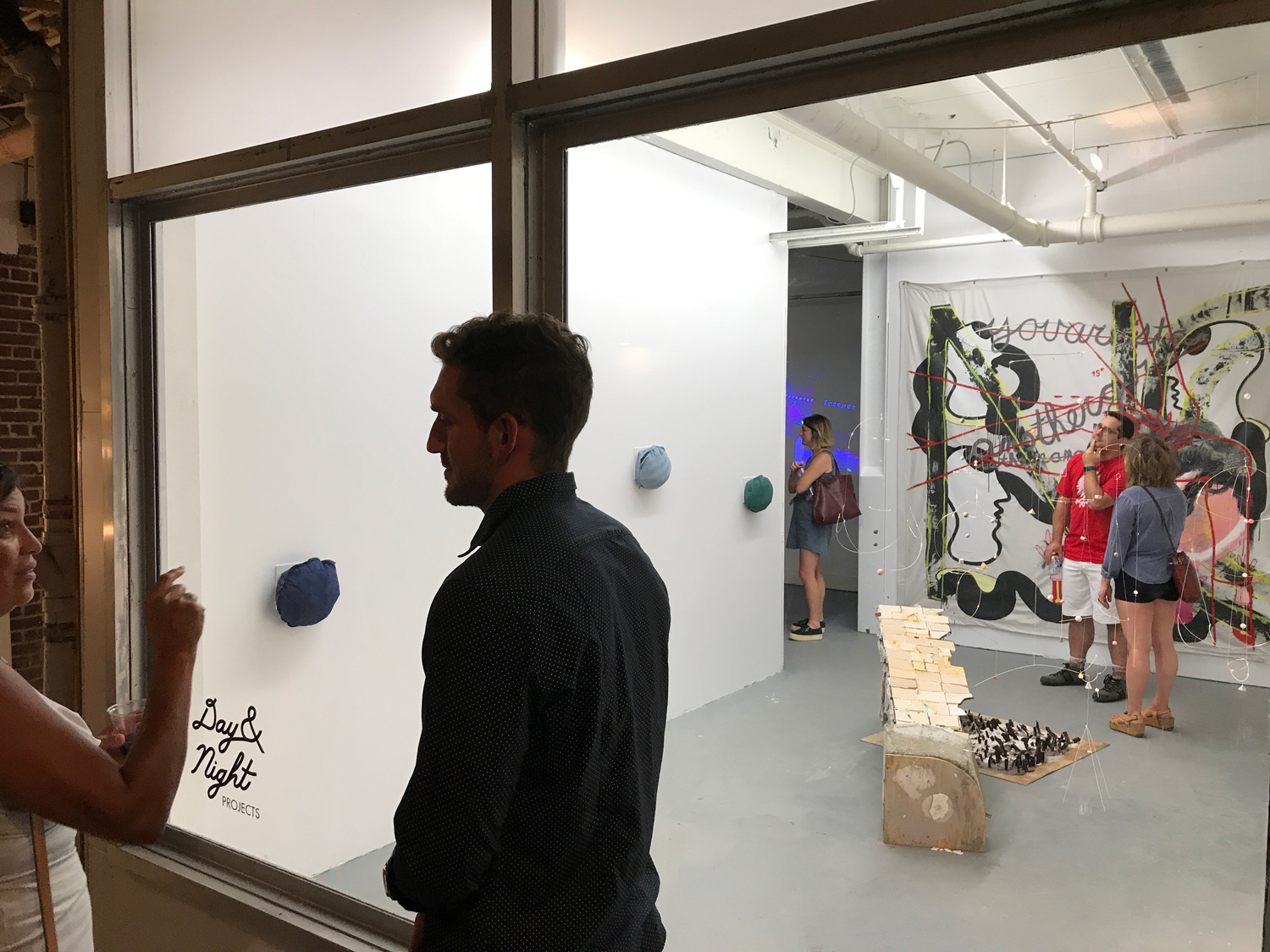 Inside of Day & Night Projects
Day & Night Projects
is an artist-run gallery near downtown Atlanta. We aim to provide opportunities for artists to exhibit in a non-commercial setting; to become a nexus for the Atlanta artist community; and to exchange exhibitions with
galleries around the world.
About the Artist
"It is enervating to exist as a multi-racial man in the American south. In 1978, my West Indian mother illegally entered the United States by way of New York. She relinquished her Caribbean heritage and adopted a pseudonym. She met my African-American father at a funeral, fell in love and moved to North Carolina. My mother adopted a drawl and learned to cook soul food. My family relocated farther south to the state of Georgia in 1990."
In 2006 Antonio earned his BFA from Georgia State University with a concentration in sculpture. Fellow artist Matt Sigmon and Darden founded the artist collaborative, The Art Officials, in 2009. Darden has curated a number of exhibitions and has been included in shows in the United States, the United Kingdom, and Mexico. He currently lives and works in Atlanta, Georgia.
Photos Courtesy of the Artist and Day & Night Projects